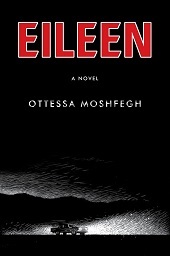 For the last few years, I have made it a point to read as much of the Man Booker Prize shortlist as is possible (given my stateside residence) before the prize is announced in late October. You know the way some people get excited for the Oscars, the World Cup, the Emmys, the Superbowl, the whatever—that's me with the Man Booker. Pathetic, I know. From this year's shortlist of six, Eileen is the first I have completed.
Eileen is aptly titled. It is a novel that's entirely about our narrator. The question of whether you'll like this book is a question of whether or not you like Eileen. Perhaps it's not so much a question of whether you "like" her, as she is not likable in many ways; rather, whether you find her interesting. Eileen is an obsessive neurotic who never received proper training on how to be with other humans. Among her many obsessions are bowel movements, sex, icicles crushing human skulls, sociability, alcohol, a guy named Randy, etc. Her constant ramblings regarding these things may irritate a reader. At the same time, that obsessive personality gives us gems like "I wore lipstick not to be fashionable, but because my bare lips were the same color as my nipples. At twenty-four I would give nothing to aid any imagining of my naked body." Eileen is an interesting character, if you like the type who is bleak, repetitive, and impulsive. She is someone who is unknown to herself, and so it's natural that many readers will not "get her."
The character I didn't "get" was Rebecca. Rebecca does some things in this story requiring the reader to suspend belief. Without knowing and understanding Rebecca, a reader may think the author is being overly manipulative. Ironically, had the story been called Rebecca, been in Rebecca's head the whole time, I probably would've said the same about Eileen. A novel with two impulsive characters, each suffering from their own mental difficulties, where only one is explained can come across as a poorly executed story. I mean, an observant reader will pick up on Eileen's peculiarities. But Rebecca—what the hell is her issue? It's obvious she's not all there, but since we don't ever get an intimate view of her, the story—particularly the ending—can seem a bit too orchestrated (you'll have to read it to see what I mean.)
Personally, I really liked the psychology of Eileen and the beautifully constructed prose. As for its chances of winning the Booker, I'd say it's very slim. First of all, there's quite a bit of attention (way too much, in my opinion) on who will be the first American author to win the prize. The judges do not want to flub this up and give the prize to a book that is not easily the best of the year. I have a feeling that many longtime Booker supporters would be unenthusiastic if Eileen won. With that in mind, I do think Moshfegh has great potential to be nominated again for a future work. In my opinion, Eileen bears some similarity to Ian McEwan's earlier works. McEwan has now been nominated for the award six times. While I would not be upset if Eileen won (keep in mind I have yet to read the other contenders), I think many would be. So this will probably not be the year for Moshfegh, but a shortlist nomination is an accomplishment in itself.